FIRST TOTALLY NEW JONS IN 40 YEARS!
If your requirements lean to the hard-core equipment side, Lowe's totally redesigned 2009 Roughneck Jons are your ticket. These revolutionary new boats are the toughest, hardest working Jons available. Maximum strength and durability is ensured with SuperLock™ All-Welded, 5052 H-34 all-aluminum, bonded PowerGrid™ substructures with rugged TufDeck® aluminum alloy decks and floors all topped with an optional super-tuff Gator-Skin™ sprayed-in interior coatings. Maximum performance is ensured with our proprietary VorTrac™ 3 ½ degree V hulls designed for the ultimate combination of at-rest stability and dry, smooth running capability in skinny water. Massive bow storage boxes, a bilge pump, pedestal seat bases and running lights are all standard. Select models feature a rod/gun locker and an extra-large 44" aerated livewell. All models come standard in olive drab paint. Optional colors include Sterling for a dressier finish and hand-applied camo for hunting; including Mossy Oak Shadow Grass and Mossy Oak Break-Up patterns.
Finally, a Jon boat that doesn't need any additional assembly to meet your serious duck hunting and angling requirements. All Roughneck models share the same construction technology. However, to match your specific requirements, Roughnecks are available in Tiller, Side Console, Center Console and Tunnel Hull Center Console configurations. Pick your precise angling and hunting tool – 14 to 19 feet.
Lowe surveyed hunters and anglers nationwide to determine the specific features dedicated sportsmen demand. As a result, most of the requested features like massive bow storage boxes and livewells, a bilge pump, built-in pedestal seat bases and running lights that are now standard in '09 Roughnecks - simply aren't found in competitive jon boats.
Oversize Floor Rivets
Large head, aircraft grade floor rivets ensure greater holding capability.
Extruded Receiver Gunnel
Massive, thick wall extru-
sions are the key structure in our SuperLock™ design.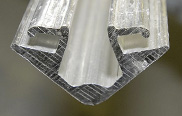 Extruded Center Keel
The keel extrusion locks-in the hull bottom sheets for maximum durability.
Recessed Cleats
Concealed cleats fore & aft reduces snagging of line, rods and other equipment.
Powerful Bilge Pump
Built-in bilge pump ensures a drier interior and storage compartments.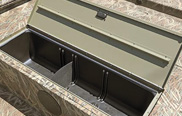 X-Large Livewell
(select models)
Massive 44", 23-gallon aerated bow livewell will handle your biggest lunkers.
X-Long Rod / Gun Locker
Locker is extra-large to handle angling or hunting equipment including archery equipment.
Center Console
Heavy-duty console includes powder coated grab rail & passenger seat.
Side Console
All-aluminum console includes recessed switches and windscreen.
Massive Dry Storage
Bow storage compartments are some of the largest in the industry.
Tough & Durable Center
Console Driver's Seat
The removable driver's seat is constructed from super-tuff polyethylene for years of service.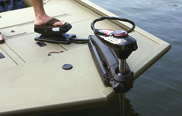 X-Strong Trolling Motor Deck
3/16" bow deck construction is one of the toughest & strongest in the industry.
Increased Performance,
Strength & Stability.
Traditional Jon boats
compromise ride,
performance and strength
with a totally flat bottom.
Roughneck's proprietary
VorTrac™ 3 ½ degree V hull
delivers the ideal combination of a shallow draft together with superior performance - all while ensuring one of the strongest hull structures available. The propriety VorTrac™ running surface features a unique V design that tapers at 3 ½ degrees from the center keel to the wide, flat side chines. The extruded center keel and formed in running strakes add torsional strength and stability, improve tracking, cornering and planing all while generating less spray.
Like the skid-resistant bedliner in a pickup, super-tuff Gator-Skin™ is weather and impact resistant. Its unique sprayed-in Polyurea® coating seals the interior and acts like an insulator to dampen vibration for a quieter ride while moderating extreme hot and cold temperatures to the touch. In addition, it resists water penetration and corrosion while making clean-up a breeze.
Roughnecks are built to take a pounding, so we use H-34 marine aluminum for its high tensile strength and flexibility. It's one of the toughest, most durable sheets in the industry.
Olive Drab - standard
Sterling Silver – optional
Mossy Oak Shadow Grass
Mossy Oak Break-Up
Roughneck boats are specifically engineered to integrate their key components including the outboard, trolling motor and trailer to ensure optimum compatibility and maximum performance. These System-Matched packages include a custom-fit Lowe trailer, plus your choice of a 2 or 4 stroke Mercury® outboard and a factory-installed MotorGuide® trolling motor.
Custom spec your hunting machine with a Mud Buddy® HyperDrive engine and folding blind in a boat-matching Mossy Oak® pattern. These blinds are built for serious duck hunters
that demand maximum
concealment while
providing bow
to transom boat
coverage.
Bullet-Proof Jon Boat
Construction
SuperLock™ is a fully integrated design and construction technol-
ogy that ensures that every com-
ponent from gunnels to hull
bottom are bonded together in
one cohesive unit. CAD technol-
ogy ensures that Roughnecks are
precision built to exacting stand-
ards. Hulls, transoms, bulk-
heads, decks, stringers, ribs and
gunnels are assembled as a truly
locked-together, bonded system.
Aluminum decks and
floors with no wood
provide a lighter
weight, highly
durable boat.
Bonded For Life
with PowerGrid™
Most Jon boats are built the same way they were 40 years ago. While that may be OK for the casual angler or hunter, Roughnecks are designed to meet the requirements of the serious sportsman. They feature a massive internal grid of longitudinal stringers running from bow to stern combined with transverse ribs placed on 10" centers with sprayed foam tying the entire assembly together in a fully bonded unit.